FThe Bear Grizzly is a legend, the bow that brought archery to the workingman. It is, in fact, still considered "the workingman's bow" almost a half century after the advertising featuring that line was phased out.This is a classic bare bow that debuted in 1951 and probably more enthusiastic archers first bow than any other bow ever made.
PROS:
There isn't a whole lot that the Grizzly doesn't do well. It is one of the classic "first bows" and a treasured possession of many of the world's master bowmen. Anybody can shoot it, and it will be comfortable, fast and stable. It works on the range, in the field and hunting. It's a bow so graceful it has justly been called a work of art.
CONS:
It doesn't accept a sight, which may put off some beginners.
---
Review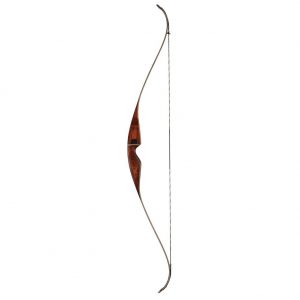 The Grizzly has been around; pretty much in the same form you can buy it today since 1951. That kind of longevity is not usual in any product, and that kind of longevity at the top of the marketplace since it's introduction is little short of remarkable.
It is the bow that introduced archery to a widespread audience, and it's not done with it's introductions.
The Bear Grizzly is a one piece recurve, meant to be shot bare bow, instinctively, point gap or string walking. It has been proven for well over half a century by thousands of archers and would probably sell more if it weren't durable enough to be passed from generation to generation. It is both fast and accurate. As well comfortable and stable, making it an ideal bow to learn on.
The riser is currently Dymondwood, the limbs, as they always were, clear maple and black glass, giving the Grizzly it's distinctive appearance. It has a shelf cut past the center, which is covered in bear hair, though you can also install the arrow rest that is included in the Grizzly package. New Grizzlys come with a tip that has been reinforced to accept Fast Flight strings.
The Grizzly is accurate and legendarily stable, the limbs never twist making it one of the most naturally accurate bows ever made, which is a big plus for beginning shooters. It features very little vibration and with appropriate arrows, almost no hand shock.
Beginning archers should be grouping arrows within a paper plate at twenty yards the first day, and advanced archers have no problem at all with tight groups as far out as fifty yards.
A friend of mine who is a Grizzly affectionate once told me the Grizzly was very well equipped for a bow introduced in 1951. That it didn't need all those geegaws, to hit bulls' eyes from fifty yards away. You can put a quiver on it, but stabilizers and sights are for sissies in the Grizzly universe.
The Grizzly is not quite the purist bow that it might seem. Ease of shooting, the comfort and feel make it a beginner's bow without a sight, and perhaps the best possible choice in a beginning bow.
The Bear Grizzly isn't an inexpensive bow, nor does it price itself into the custom bow world. It is a classic bow with an intermediate price, and worth every cent of it, check out Amazon's latest deal.
Bear Grizzly Review – Final Thoughts
The Bear Grizzly is a legendary bow that has been proving itself for more than fifty years. It is an excellent bow at any skill level and one of the best possible choices for a first bow.
It is durable and someone's great grandchild is still shooting a bow that was sold in 1951. While not on the bottom of the price scale, it a bow that will deliver on every cent of its price and that isn't exactly common.